About us
Dear Visitors
Kaczmarczyk company is present on Polish market since 1989. The company meets the requirements of most demanding customers, looking for metal products of highest quality. Since the beginning of our business activities, many famous companies as Tchibo Gmbh, Buderus, Exbud-Skanska, architectural offices, have bet on cooperation with us thanks to our professional approach to our services, understanding specific customers' needs and our flexible consulting services in the field of lightweight steel constructions. This multi-layered approach lets us meet the needs of individual customers, large building and project management companies, coordinating serious enterprises of constructional nature, such as shopping centres, prestigious public buildings, industrial buildings and houses.
Our company specializes in pre-fabrication of stainless steel constructions, powder and hot-dip zinc coated. In this matter, we are the unquestionable leader on Polish market, being also a reliable consultant and setting the quality standards. Many of our achievements are related to joining steel with other materials, such as glass, wood or plastic.
We cooperate with many business entities, which lets our products meet the needs of our customers, thus giving us high level of satisfaction of the completion of the tasks. We have a professional design office, which role is to manage and coordinate projects, providing reliable technical solutions.
If you want your investment to be a successful one, we are the right partner.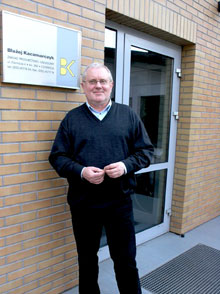 Owner
Błażej Kaczmarczyk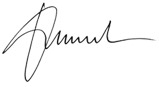 History
1990
cooperation with Keitler company, for which we produced specialized pallets for car parts transportation for BMW robotized production lines
the beginning of cooperation with German companies, for which we created bannisters and other lightweight metal elements
1991-1995
lightweight steel elements and fittings in BPH bank in Kęty
development of export to Germany; the company starts specializing in managing wide range building enterprises
1996
production of bannisters for Tbilisi and Pietropavlovsk airports (General Contractor was Exbud company from Kielce)
1997
production and mounting of bannisters in Tyskie Brewery, as well as lightweight steel constructions (General Contractor: Exbud company from Kielce)
1998
production and mounting of lightweight steel elements and banisters in Centrum Kultury Filmowej in Jastrzębie Zdrój
production and mounting of lightweight steel elements and fittings in PKO BP bank in Jastrzębie Zdrój
execution of works in Hamacher Elektrotechnika building in Tychy
1999
production and mounting of lightweight constructions of Zar pavilion for Domy Towarowe Centrum in Warsaw
production of bannisters, tables, safes and other elements for the new building of Rybnik City Hall
execution of works in ING Bank Śląski in Rybnik
2000/2001
managing the ivestment of Mokotów Gallery of GTC group with Bovis project management company (as the only company not being a subcontractor)
production of various stainless steel objects in Multikino complex in Zabrze
production of steel elements and fittings in Mercedes showroom in Zabrze
2002
managing the luxury D3 EKO PARK housing estate investment in Warsaw
production of various stainless steel objects for Chrysler showroom in Zabrze
production of various stainless steel objects for Multikino complex in Bydgoszcz
production of lift housings, as well as other elements in Empik Megastore salon
2003
execution of works in PKO bank in Opole
another execution of works for a car showroom, this time for BMW concern in Zabrze
production of lightweight steel cntstructions for HASCO-LEK pharmaceutical company in Wrocław
execution of works in Wratislavia Center in Wrocław
execution of works in Multikino cinema complex in Szczecin
2004
execution of works in Blue City in Warsaw
servicing the MAXIMUS Wholesale Center building in Nadarzyn
second part of HASCO-LEK investment in Wrocław
execution of elements and fittings in Poznań Plaza shopping centre
2005
Kępa mieszczańska (Wrocław)
Wrocław Uniwersity of Technology (bannisters, counters, various stainless and paint-coated steel elements)
2006
servicing the Chrysler showroom building in Wrocław
execution of stainless steel wall housings system, as well as other elements in Factory Outlet (project management company: Bovis)
2007
production of bannisters, bridges, masts as well as many other elements and fittings in Magnolia Park in Wrocław (General contractor: Warbud)
mounting and production of metal elements for ?Cadbury Schweppes" company in Skarbimierz
second part of Factory Outlet investment